In case you are already planning for a vacation or tour to India then your trip will be incomplete if you don't visit the famous tourist spot Jaipur. This is one of the most popular places that is also known as pink city.
However, in case you are looking for the best places to visit in Jaipur then you have come to the right place because we are going to discuss important information about the famous attractions of Jaipur. We are sharing some interesting places that filled with heritage, cultural wonderland, and brimming architectural gems. Jaipur is a permanent destination in India that is already packed with lots of famous attractions.
Best Places To Visit In Jaipur
City Palace
You will find a lot of people searching for the best places in Jaipur where they can visit with their beloved partner or family members. City Palace has become the best place that is located in the ancient city of Jaipur. This specific place is almost 3 centuries old and Maharaja Sawai Jai Singh decided to relocate his court from the Amber city.
This is one of the best places to visit in Jaipur. You will also find some big protective walls in the City palace. This is the best place that is home to the modern royal family of Jaipur. Make sure that you are going to this palace with your family or lover because the whole city palace will surely provide you with an interesting display of Rajasthani and Mughal architecture.
Also Read – Bhangarh Fort – Mysterious Place Of India!
Hawa Mahal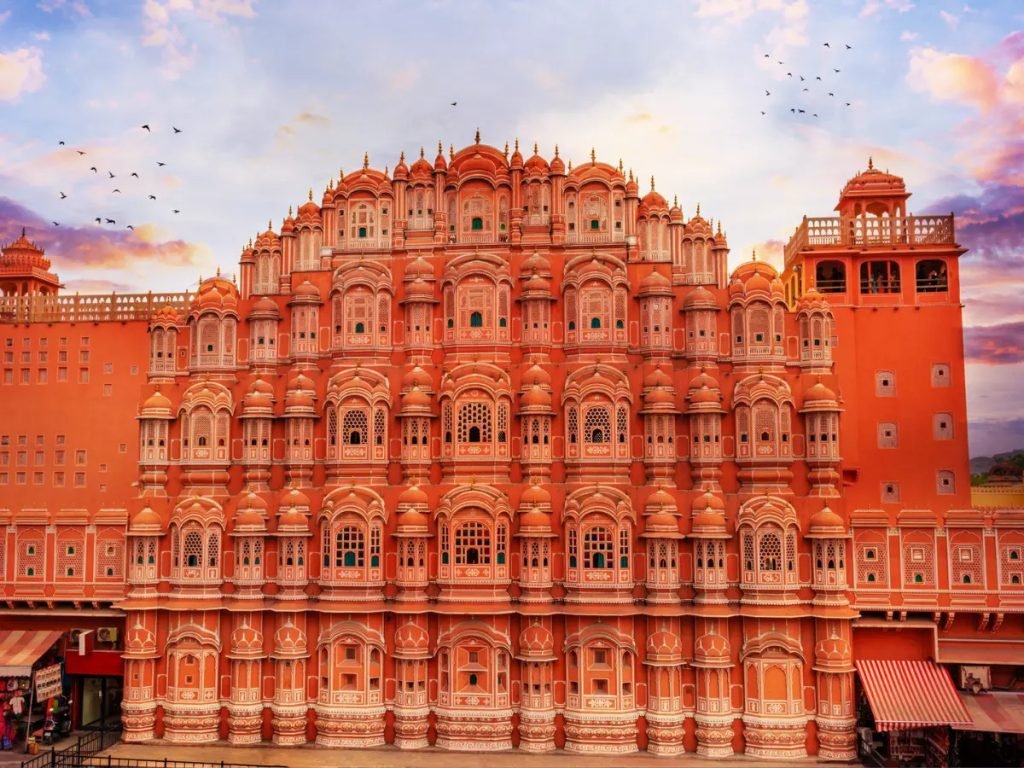 In case you have already preconceived notions regarding how every building actually looks in Jaipur, people have come from the Palace of Breeze. This has become an ultimate place that filled with interesting distinctive architectural features. It has become the best place that was built by Rajput Sawai Partap Singh in 1299. This specific place constructed using pink and red sandstone that also has a blend of Rajasthani and Mughal styles of architecture.
Albert Hall Museum
This is one of the oldest museums in Rajasthan and also considered a beautiful tourist attraction in Jaipur. A lot of people prefer to visit this incredible museum because it packed with the biggest collection of art and significant ancient artifacts like Egyptian mummies and other things. You will also find several things in this great place like charming permanent miniature paintings and the 18th-century dresses also worn by the different kinds of castes.
Also Read – Best Delhi Tour Packages Under Budget For 7 Days
Amber Fort
It is also another ultimate tourist attraction of Jaipur. If you are already planning to visit Jaipur then you will have to choose an almost 20-minute drive and this place is located Northeast of Jaipur's center. It has become one of the most popular places which is also known for great example for the Rajasthani architecture.
Nahargarh Fort
If you are already planning for sightseeing in Jaipur then nothing is greater than the Narhgarh Fort. This specific place is located on the mighty Aravalli Range. In addition, it offers a fantastic view of the city of Jaipur. Therefore, if you are already planning to visit Jaipur then you must visit Nahargarh Fort.  This is the best place that is continually catching the attention of travelers.
Also Read – Things to do in Nashik for couples
Birla Mandir
This is also the most popular Hindu temple in Jaipur which was constructed by B.M. Birla Foundation that was built in 1988. Such a fantastic mandir is created using white marble. It has become the best place in Jaipur which is completely dedicated to the Lord Vishnu (Narayan) and Goddess Lakshmi. This specific temple also holds festivals like Janmashtami and Diwali. They are also opening the temple on a regular basis which is located near the Hill of Moti Dungari in the Tilak Nagar neighbourhood of Jaipur.
Amrapali Museum
If you are looking for a place where you can easily view antique stones and jewellery then Amrapali Museum would be an ideal option for you. They are displaying the treasures in the museum. Such an incredible place also features two full floors of objects and jewels with more than 4,000 collections that show different kinds of Indian craftsmanship. The display also depicts how Rajasthani people were so serious related to the precious gems, gold, and silver.
Jal Mahal
Whenever people look into Jal Mahal for the first time then they are always thinking that they are looking for something antique thing. This has become one of the best, most elegant, and most graceful places. It has become the best place that was built in 1750 by Maharaja Jai Singh II of Amber. It is created using red sandstone.
Jaigarh Fort
You can easily find a lot of places to visit in Jaipur. This has become a hub of so many attractions and Jaigarh is one of them that is located on the Hill of Eagles. It is the most amazing place which was constructed in 1726 AD by Sawan Jai Singh II. You can also find lots of attractions within the fort like Laxmi Vilas, Aram Mandir, Lalit Mandir, and Vilas Mandir.
Also Read – Jaipur's Top 10 Must-Do Activities with Bharat ka Bhraman
Jantar Mantar
Jantar Mantar has become the biggest attraction of the city like Jaipur and is also considered as the top tourist attraction of India. Such an amazing place also located close to other famous attractions such as Hawa Mahal, and City Palace. Such a place was constructed to study related to time & space. Some of the structures were built in marble, bronze, and stone.
The Final Verdict
Lastly, these are some of the best tourist attractions in Jaipur. If you are already planning to trip to a place like Jaipur then you should visit these places. You can easily find so many places to visit in Jaipur. There are also lots of options for school, family vacations, birthday parties, and college picnic trips.